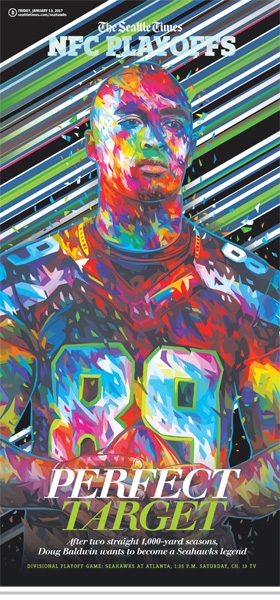 DOUG BALDWIN | Fine Art Print
From The Seattle Times special coverage of the Seattle Seahawks and the NFC playoffs in January 2017. This full color poster features a unique illustration of Doug Baldwin by artist Allessandro Pautasso of Turin, Italy. Baldwin was chosen for the cover to celebrate his back to back 1,000-yard seasons for The Seattle Seahawks as they head into the divisional playoff game against Atlanta.

12″ x 22″ full-color poster of the Friday, January 13 2017 sports page of The Seattle Times, printed on coated, thick-stock paper, suitable for framing.
All items are printed and shipped directly from DuraPlaq®. Please allow ten (10) to fourteen (14) business days for production and FREE shipping of this item.
Product Enquiry
This is a short description