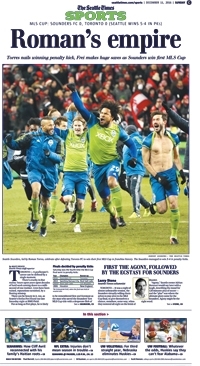 Sounders Win MLS Cup | Fine Art Print
Remember the Sounders' dramatic win over Toronto to win the MLS cup in the overtime penalty kick off! 14″ x 24″ full-color fine art print of the Sunday, December 11th sports page of The Seattle Times, printed on UV-coated, thick-stock paper, suitable for framing.
All items are printed and shipped directly from DuraPlaq®. Please allow ten (10) to fourteen (14) business days for production and FREE shipping of this item.
Product Enquiry
This is a short description